The Challenge
Founded in 1994, Ovarian Cancer Research Alliance (OCRA) is the oldest and largest charity funding ovarian cancer research in the United States. Ranking third in overall ovarian cancer research funding, OCRA invested nearly $65 million in ovarian cancer research since its inception through 237 grants to scientists at 65 leading medical centers in the United States. Eighty-seven percent (87%) of every dollar raised supports OCRA's research funding, earning the organization a coveted four-star ranking from the independent charity evaluator, Charity Navigator.
With such a remarkable percentage dedicated to funding research, OCRA operates with a lean management team. Full-time staff members assume myriad responsibilities with one person covering branding, website, social media, print and electronic communications, public relations and more.
OCRA turned to Relevance Advisors with the goal of taking full advantage of the "free" online advertising monies available to the charity. Although the OCRA team had successfully secured a Google AdWords Grant, staff members had neither the specialized knowledge, nor the time, to manage the program effectively, and were utilizing less than one percent (1%) of the allotted maximum monthly budget.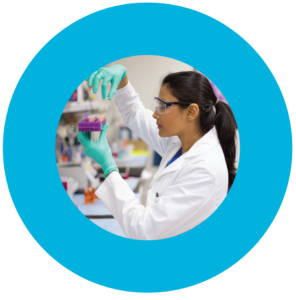 The Solution
Industry Research and Campaign Creation – Employ expert knowledge of Google AdWords management to create relevant campaigns.
Website Content Expansion Addressing User Queries – Isolate frequently searched keywords and topics and suggest the creation of  relevant website content for them.
Nimble, Responsive Campaign Management – Test, measure, tweak, and run timely, geo-targeted campaigns to optimize results.
Relevance Advisors immediately recognized the need to increase the scope of OCRA's AdWords campaigns and website content. Rather than targeting merely the obvious — ovarian cancer — Relevance Advisors created multiple campaigns around related topics. From symptoms to stages to other types of women's cancers, keyword analysis indicated that website visitors were hungry for information on many subjects.
Many people search for information related to the colors of cancer awareness ribbons. Rather than simply list teal as the color of ovarian cancer awareness, the OCRA website provides information on the generally agreed upon colors for ribbons representing more than two dozen cancers. Likewise, as a public service, OCRA provides overview information on other types of gynecologic cancer and directs visitors to their respective foundations.
Additionally, as OCRA's calendar of events changes, so do campaigns. Whether it's Super Saturday, an Ovarian Cycle spinning event, the Legends Gala, or a tennis tournament, specific, geo-targeted campaigns drive traffic and, ultimately, donations to the site.
The Results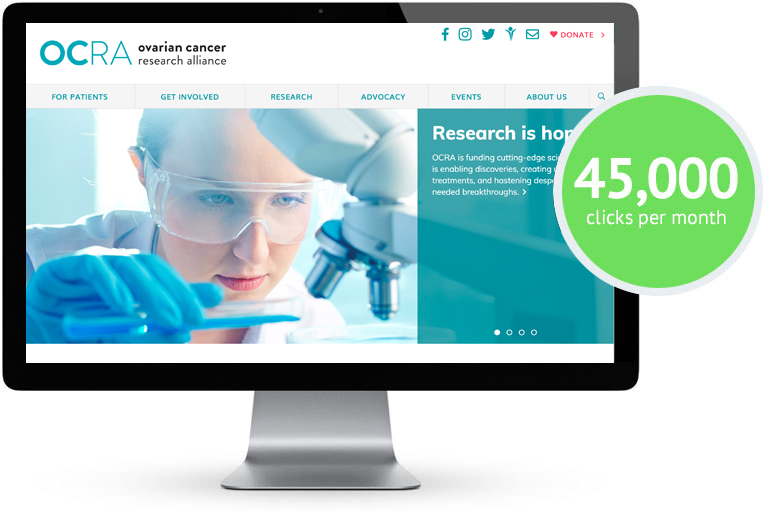 The month before Relevance Advisors assumed management of the Google AdWords Grant, OCRA had spent just under $80, garnering only 89 clicks to their site. In just 60 days, Relevance Advisors was attracting 14,000 clicks per month via AdWords campaigns. One year later, that number had catapulted past 45,000 clicks per month.
Relevance Advisors was able to demonstrate such strong ad value, that OCRA qualified for Google Grants Pro, enabling the organization to benefit from up to $40,000 per month in free ad value.
Thanks to strategic AdWords campaigns, Relevance Advisors has been able to provide more than $3 million in ad value to Ovarian Cancer Research Alliance, and help in increasing web traffic.
Audra Moran, CEO, Ovarian Cancer Research Alliance says: "At Ovarian Cancer Research Alliance (OCRA), we strive for impressive numbers. For example, over the last 5 years our annual revenues have increased by 35% and our grant applications have increased 160% with 87% of every dollar raised supporting our programs. Thankfully, Relevance Advisors turned our less-than-impressive $80 AdWords value into $40,000 of value per month.  A 5,000% increase in less than two years—now those are the kinds of numbers our organization likes to see!"